Best Website Designing and SEO company in Lucknow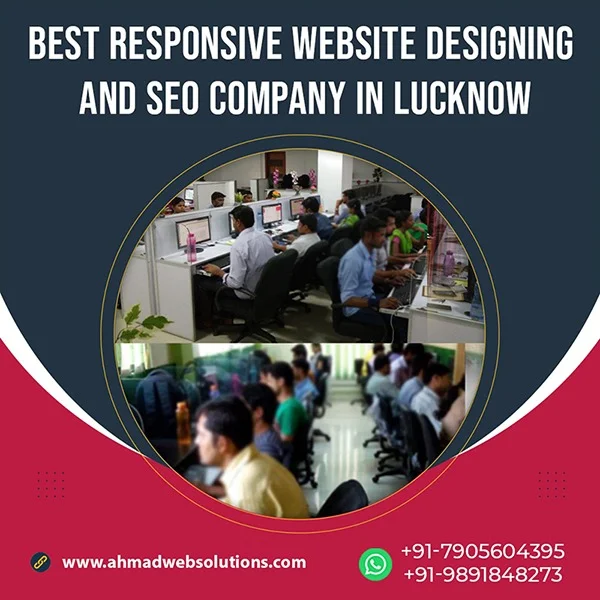 Ahmad Web Solutions is Delhi based leading website development, designing and digital marketing company working locally in Lucknow, we provides best quality responsive and mobile website designing, development along with SEO services. As we are one of the best Web design company in Lucknow we provide affordable and cost effective Website Designing and SEO services packages to our clients.
Lucknow, the capital of Uttar Pradesh, has a growing web design industry, offering a range of website design services for businesses of all sizes. Here are some of the key factors to consider when choosing a website design service in Lucknow:
Portfolio: Look at the company's portfolio to see examples of their work and get an idea of their design style and expertise.
Experience: Consider the company's experience and the number of years they have been in business.
Customer reviews: Read customer reviews and testimonials to get a sense of the company's reputation and quality of service.
Responsiveness: Choose a company that is responsive and easy to communicate with, and that values your input and feedback.
Technical expertise: Make sure the company has the technical expertise to create a website that meets your specific needs, including any custom features or integrations.
SEO knowledge: Look for a company that has a strong understanding of search engine optimization (SEO) and can help improve your website's visibility in search results.
Cost: Consider the cost of the service and make sure it fits within your budget.
It's important to research multiple website design companies in Lucknow and compare their services, portfolios, and prices to find the best fit for your needs.
Website Reach
Now a day's having website for your business is a trend doesn't matter what type of business you own or run. Website designing service is one of the most convenient and affordable way to reach your customers who are situated remotely. Website is the first impression of your business so having a capable website which convinces people to reach you is must. So, we provide one of the most reasonable services for designing beautiful websites for you. Ahmad Web Solutions is one of the most efficient Web Designing and SEO service companies in Lucknow (India) we as a team have more than two decades of experience in doing that.
Responsive Web Design for Mobile Phones
Since last decade smart phone has been grown not only in popularity but in numbers as well. Because of Smartphone's high portability majority of web surfing are done through smart phone now a days, because of this a new concept of web design came into existence which is RWD (Responsive Web Design). Today it is mandatory for website to be responsive or mobile friendly, because majority of users access website on mobile. When a user click on your website for the first time and reaches your website what they see how well your website Design is. If the design of your website is good user will definitely spend time on your website, otherwise leave your website and search for other websites. We understand that a well-designed web property is the best tool for both branding and lead generation.
Search Engine Optimization
Ahmad Web Solutions provide Search Engine Optimization service that can bring thousands upon thousands of visitors to your website a day. This may put your company in a position of needing to expand to a larger web server to accommodate the traffic and sales to your website. Your customers may recommend you a product or service that they were looking for when they visited your website. SEO is a really great investment for your company and could be what you need to take it to the next level.
Digital Solution
Ahmad Web Solutions has been providing Digital solutions and services to clients at state and national level. Ahmad Web Solutions provides complete IT solutions under one roof. The marketing and growth strategies are concentrated on off shore development in a number of state of the art facilities in India.
More Services
Ahmad Web Solutions has experience of handling hundreds of websites. These include Domain Registration, Hosting Services, SEO Services, Logo Designing, Graphic Designing, Website Designing, Website Builder, CMS Website Development, Ecommerce Website Development, Digital Marketing, Social Media Marketing, Social Media Optimization, Search Engine Optimization, Mobile Apps Development, Android Apps Development and Website Promotion. Our expertise lies in producing customized websites for publications.